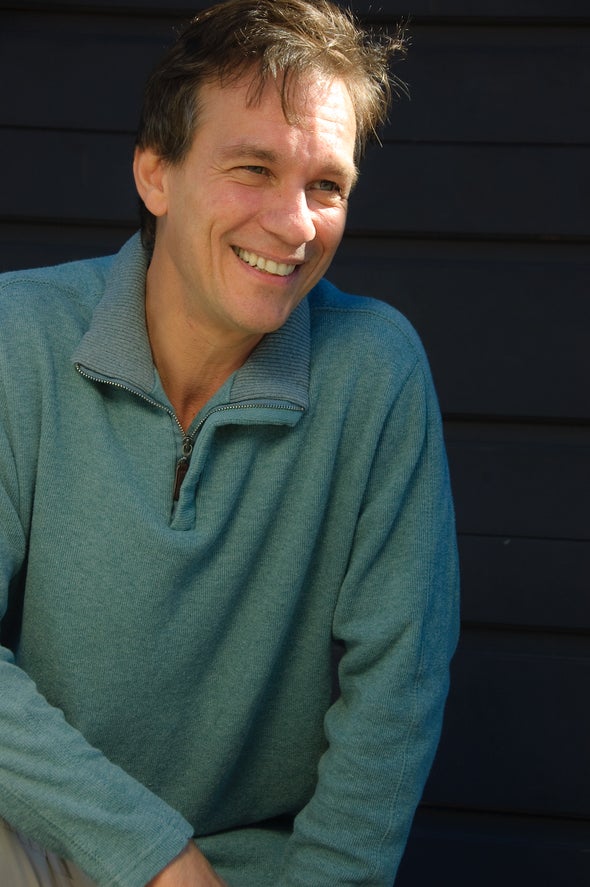 Does an artist have to starve in order to make a life in art?
In this series of interviews, I am asking people who have, by their own definition, a successful creative career.  They have built a life around conscious choices and values that looks very different from the standard idea of what an artist is.
What their lives look like may surprise you:  they are artists in studios, part of city agencies, owners of manufacturing and real estate companies, artists-in-residences in all kinds of places.  
What is common to all of them is this: they are happy.
I believe there is great wisdom behind the in flight safety message that instructs you to put your oxygen mask on yourself first.  In this situation, you clearly will not be able to help anybody else if you cannot take care of yourself first.
The same is true in life.
You cannot build a successful creative life if you do not take care of yourself first.
Guy Ventoliere is an artist with a unique and successful career path that has earned him the name of
"the theatre whisperer".
He has harnessed his skills as an actor and in many other areas of theatre and business to grow a successful artistic career and now helps others do the same.
How do you self-identify?
"You are at a cocktail party and someone asks you who you are. What do you say?"
It depends on who I am talking to. I usually say I am the Director of Sales for a large audio visual company.
"How do you answer that question for yourself?"
I am a Renaissance man. I want to know how to do everything. A lot of artists will say things like, I can't do numbers and taxes… I'm an artist.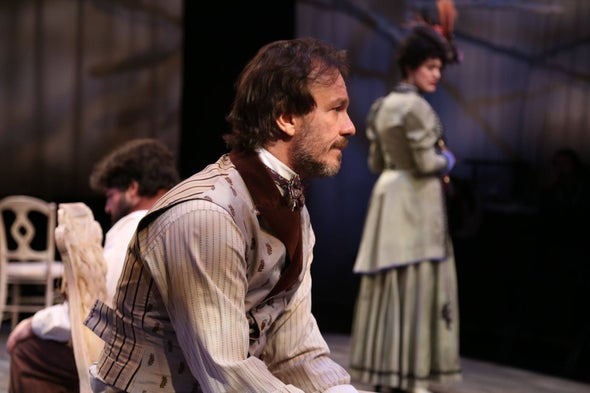 As Lopakhin in "The Cherry Orchard"
For me, the opposite is true. I can do anything because I am an artist. I direct, act, and I know most of the technical elements of theatre like lighting. I have built sets and props for many plays for places like Lincoln Center. I know fundraising and development and how to direct children's theatre. The paintings on my walls I have painted and the furniture throughout my house I have built.  And I have had a very successful career in large enterprise account management and sales.
I started out as a stage carpenter with very little experience. I was teaching kids, doing my 
carpentry, acting and directing. Then made a drastic turn and became the director of development for a nonprofit in the arts. I didn't know anything when I started but eventually managed to double the budget. How did I do that? I communicate well with people and I'm not afraid to fail. That is so important.
Acting and art is about honesty. About being truthful on stage and in life.
I hate the term "starving artists". 
Many people have more than one job to make it. Artists can also supplement their needed income to survive. Sometimes we have to embrace a life of multi-careers so there is food on the table. You don't have to starve. Look, I'm an actor and a sales guy. I do different things because being an artist allows me to think creatively and critically, embrace the diversity around us and to do the variety of jobs one may need to do in order to survive. And being an artist allows us to do these things well.
When I was in telecommunications, I was the top sales guy with a higher client retention rate than all my other coworkers who had more education and experience than I. My boss threw a surprise party for my 40th birthday where she wrote a note about me that read, "Thank you for reminding me to always hire sales people with an arts background."
Many artists close themselves off, they don't have a lot of world experience and they stay isolated with their art distrusting things like corporate America, stock brokers, men in suits, and CEOs.
My experience in corporate America has been different. My last CEO was an opera buff. He was so happy to see that he had an actor and a director in his employ that he allowed me and my girlfriend to expense tickets to DC to see a production of "
Romeo & Juliet"
with him and his wife. This CEO loved and appreciated the arts. I have never come across people in business that looked down on me  because I was an artist.
I have always been able to direct and act on the side while holding down a full time job. I never wanted to be a waiter so I could go on auditions and wait for my big break. I wanted to work 9 to 5, have health insurance and stability and have my nights free to rehearse theatre. Feeling secure allowed me to have the finances and freedom of mind to explore and explode artistically.
There was a time I was given an ultimatum by one of my bosses to attend a conference in the summer during the Hip to Hip Theatre season that I was involved in. I was saddened by this but did not hesitate to choose theatre. Management grew to understand doing this theatre work was important to me and only enhanced my capabilities at the job. I am always one of the top sales people at my job, the top out of about 200 during my heaviest season of theatre actually.
Now, I use the various aspects of business that I have learned and what I do to help other artists and arts organizations. This past month I facilitated an interview with the Public Theatre for our dramaturg at Hip to Hip and provided the needed equipment to the American Bard Theatre's production of "
Visionary Voices".
I also got them an intern to help with costuming. I helped transform a cafeteria into a theatre for Riverdale Children's Theatre Company while also playing the cat in "
Suessical"
along with all the pre-season work that needs to get done for Hip to Hip including meeting with several possible interns for our upcoming season.
What are the benefits and challenges of being an artist and…
One of the benefits of what I do is the extreme diversity of communication I have with all kinds of people, from CEOs to inner city kids. People come to me as an "idea guy" because of my varied experiences in the corporate environment, knowledge of art and theatre. They know I can step in and help. Someone at The Nicu's Spoon Theatre Company once called me
"
the theatre whisperer
". The term stuck.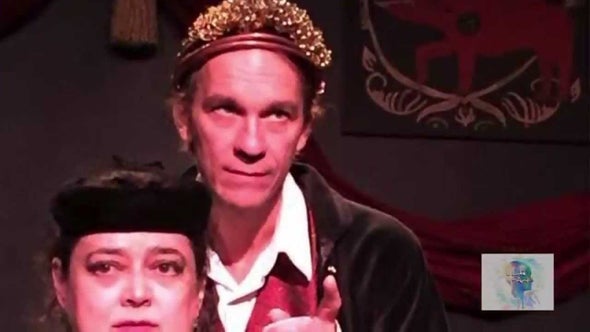 As Richard II in a Nicu's Spoon production
Another benefit is happiness. I am always performing, I am always involved in a play, I always have an outlet. In the past 2 years, I have done 8 plays. Money is never a challenge for me. I am always able to help others and to donate back my stipends when working with a struggling theatre company.
One challenge I have always faced is that work sometimes interferes. For that reason, I have always sought out jobs that allowed me to work around my theatre and my art. Not waiter jobs. Good old 9-5 jobs.
What are you working on now?
I recently became the Chair for the Nicu's Spoon Theatre Company and I serve on the board of the Unity Stage Company. In addition to all that, I am the Managing Director for Hip to Hip Theatre and I am proud to say that we have been successful in reaching our goal of performing in every borough. In our first year, we had an audience of 600 people. We now serve 8000 people per season in 14 parks citywide. Our next goal is to increase that to 10,000 people.
I just closed "
Cows of War"
, an adaptation of
"Peace"
by Aristophanes as part of the Hunter College MFA Playwrights. This past summer I did "
Hamlet"
at the Brick Theatre and "
The Tempest
" for the Shakespeare Forum and Identity Theatre in Manhattan. I am currently working with the Riverdale Children's Theatre Company's (RTC) production of "
Suessiscal"
. RTC is ranked one of the top 8 children's theatre companies in the country.  I have also started preparing for the role of Cassius in "
Julius Caesar"
in May and have had several meetings and read-throughs for an original play called "
Sweet Sixteen"
that will be appearing off-Broadway the last quarter of 2017. I am also slated to perform in a series of plays this summer for a very well-known and prominent theatre company but I am not allowed to speak about it until it is announced.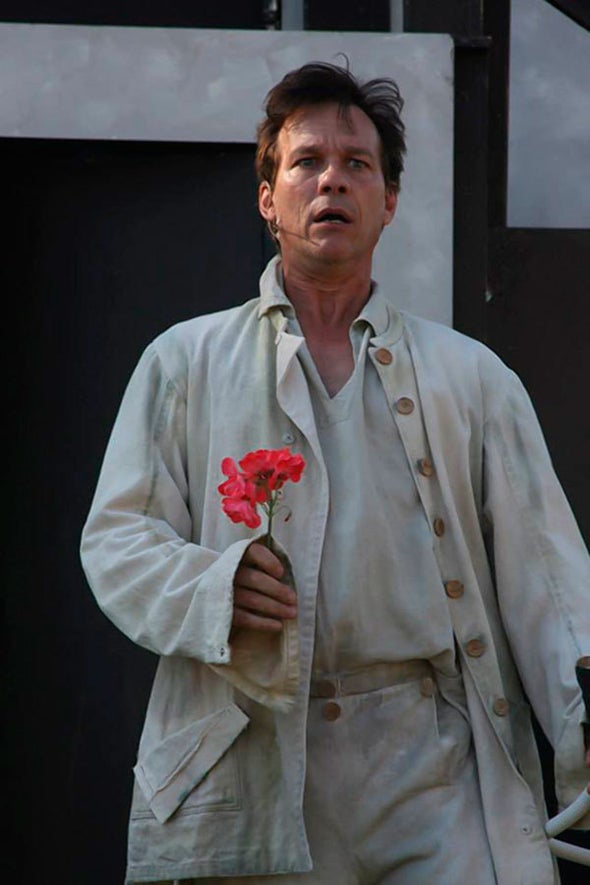 In the role of Doctor Caius that won Best Supporting Actor for Queens Kudos
I am working on my graduate degree in drama which is both theory and criticism. Next semester I have a reading list of about 1000 pages in of very dense critical theory, 31 plays from Greek to contemporary genres. I am required to submit five 750 page responses, a 10 page paper with a presentation, and a 20 page paper. And that's for 1 class.
Where can people see more of your work?
And my future website currently in development – Simplyguy.com
What advice can you give to emerging artists and people with an inner artist?
Don't be scared about your next meal. Go for it. I was so concerned about working to make money it inhibited me from really going the distance.
On the flip side, it has allowed me to do what I want to do, and that is good too.
Pitch in! Help where you can.  There is no room for STARS. Help out and paint something, sew costumes. This is all about collaboration and teamwork. Pitch in other areas.
I can't stand actors who don't contribute in other areas when they are working with a group that is already understaffed or underfunded. For younger artists, knowing all the aspects of your profession can only help you.
Hoong Yee
About the Author: Hoong Yee Lee Krakauer helps artists & creative people grow their careers with great grant writing strategies & mindsets she has developed over 15 years as an veteran grant panelist, grant maker & grant writer. Get her FREE Master Grant Strategy Worksheet and a weekly dose of insights from a grant reviewer's point of view.